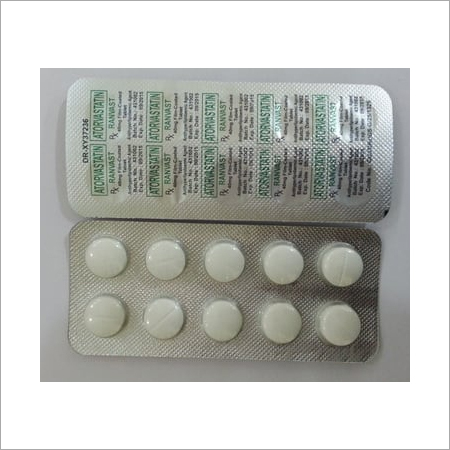 Atorvastatin Tablets
Product Description
In the last few years, we have established ourselves as one of the most prominent organizations engaged in offering Atorvastatin Tablets. At our sophisticated processing unit, we process these tablets using high grade compounds. These tablets are used to reduce the levels of bad cholesterol and triglycerides in the blood. Highly demanded in the market, these tablets are packed with quality approved materials. We offer these Atorvastatin Tablets at pocket friendly prices.
Features:
Safe to consume
Precise pH level
Highly effective

Uses and Benefits
For treatment, control, prevention, & improvement of the following diseases, conditions and symptoms:
High cholesterol
Heart complications
How it Work
Blocking the enzyme required for the production of cholesterol in the body.
Composition
Precautions
Avoid Drinks
Avoid grapefruit and grapefruit juice
Avoid intake of excess fat containing food
Hypothyroidism
Kidney problems
Personal or family history of muscle problems
Contraindications
Active liver disease
Hypersensitivity
Lactation
Porphyria
Pregnancy
Dosage :
Common Adult Dose for the Prevention of Cardiovascular Disease
-First dose: 10 mg or 20 mg by mouth once a day; an initial dose of 40 mg may be put-upon in patients who need a reduction in low density lipoprotein (LDL-C) of more than 45%
-Care dose: 10 mg to 80 mg orally one time in a day.
Common Adult Dose for the Homozygous Familial Hypercholesterolemia
10 mg to 80 mg orally one time in a day.
Side effects
Some known and reported side effects of atorvastatin include: arthralgia, nasopharyngitis and diarrhea. Some other side effects comprise: urinary tract infection, insomnia, muscle cramp, limb pain, musculoskeletal pain, myodynia, and nausea. A comprehensive list of inauspicious effects of the medicine is as follows:
Less common or infrequent:
Cough

Trouble with swallowing

Dizziness

Fast heartbeat

High or low Fever

Hives

Itchiness

Pain, muscle cramps, stiffness, puffiness or weakness

Puffiness or enlargement of the eyelids, swelling around the face, eyes, lips or tongue

Skin rashes

Constriction in the chest

Out-of-the-way fatigue or weakness

Wheezing
Relative incidence not known:
Peeling, Blistering or loosening of the skin

Chills

Dark-colored urine

Diarrhea

Joint pain

Large, throng-like swelling on the face, lips, tongue, eyelids, throat, hands, feet legs

Red skin wounds, often with a violet center sore.

Red and irritated eyes

Sore throat

Sores, ulcerations, or white spots in the mouth or on the lips .
Secondary Side Effects
Some of the side effects, which can occur with atorvastatin may not require medical aid. As your body set to the medicine during the duration of treatment these side effects may shift away. Your health care advisers may also be capable to tell you about the ways to cut down or prevent some of these side effects. If any of the leading side effects continue and annoying you thoroughly or if you have any queries about them, consult with your health care professional:
More common:
Headache

Huskiness

Lower back or side pain

Pain or soreness around the eyes and cheekbones

Aching or difficult urination

Closed or runny nose
Less common:
Abdominal or stomach pain

Back pain

Belching or excessive gas

Constipation

General state of discomfort or illness

Heartburn, indigestion, or stomach irritation

Deficiency or loss of strength

Loss of appetite

Nausea

Sweating

Shivering

Troubled sleeping

Vomiting
Incidence not known:
Enhanced appetite

Black, tarry stools

Bloody nose

Blurred Vision

Bloody or cloudy urine

Continued ringing, buzzing or other inexplicable sound in the ears

Difficult, fervent, or aching urination

Defect in night vision

Inordinate muscle tone or tension

Fruit-like breath odor

Groin or scrotum feeling

Inability to make an erection

Enhanced body movements

Increased sensation of the eyes to light

Increased sensitiveness to touch or pain

Increased thirst

Increased urination

Failure of bladder control

Loss of sexual power, drive, or desire

Menstrual bleeding happening earlier or lasting longer than of regular.

Mental depression

Nervousness

Pale Skin

Nightmares

Paranoia

Speck red spots on the skin

Slurred speech

Swollen or tough lymph glands in the armpit, neck or groin.

Incapable to move or feel face

Abnormal bleeding or bruising

Weight loss
Important information
Atorvastatin is a medicine that is used to treat high cholesterol, it lessens the risk of heart attack, stroke or other heart hindrances in people with type 2 diabetes, structure heart disease, or some other risk causes. Atorvastatin is appropriate for adults and the children who are more than 10 years old.

It is highly recommendable not to take atorvastatin, if you have a liver disease or is pregnant or breast-feeding. Stop taking this medication and tell your doctor right away if you become pregnant.
Atorvastatin is just part of a complete program of treatment, which also includes exercise, diet and weight control. Follow your medicine, diet and exercise routinely.
Before you take this medicine, there are things to consider with;
You should not use atorvastatin if you are sensitized to it, or if you have:
Liver disease

If you are pregnant or breast-feeding.
To make sure that atorvastatin is harmless for you, ask your doctor if you have:
Muscle pain or powerlessness

History of liver disease

History of kidney disease

History of stroke (including Tia or "mini-stroke")

A thyroid disruption

If you have more than 2 alcoholic drinks every day.
Atorvastatin can reason a condition, which results in the disruption of cadaverous muscle tissue that lead to kidney failure.
This medicine can hurt an unborn baby or reason birth defects. Do not take the medicine if you are pregnant or use efficacious birth controls to prevent pregnancy while the usage of dosage of these medicine. As the medicine can run into breast milk and could hurt a nursing baby, so do not breast-feed while you are using this medicine.