Cinnarizine Tablet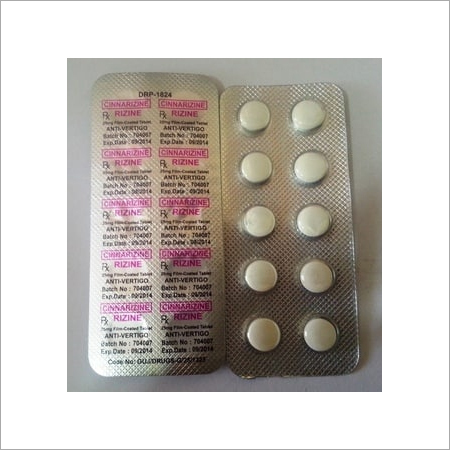 Cinnarizine Tablet
Product Description
With the aid of our experienced professionals, we are engaged in manufacturing and supplying Cinnarizine Tablet. These tablets are basically an antihistamine and used for controlling nausea and vomiting due to motion sickness. All these cinnarizine tablets interferes the transmission between vestibular apparatus of the inner ear and the vomiting centre of the hypothalamus. Offered cinnarizine can also be used by scuba divers without an increased risk of central nervous system oxygen toxicity.
Formulated in tandem with the norms of the industry, these are highly appreciated for their following attributes:
Purity

Precise pH value

Accurate composition

Longer shelf life
USES
What is it utilized for?
Cinnarizine is used to nurse a number of difficulties. It is a kind of antihistamine drug, erstwhile known as a balance disorder treatment or travel sickness.

It is also put-upon to treat vestibular conditions (balance disorders).

In all-purpose this drug is basically used to medicate the balance disorders (such as in Meniere's disease), including dizziness (spinning or swaying consciousness when standing still), feeling sick (nausea) and vomiting, tinnitus (ringing in the ears), as well as for travel illness (during sea travel and road journeys).
Listed below are the regular uses of Cinnarizine.
Nursing or preventing troubles with balance (such as Menieres disease) to treat indications of feeling sick or light-headed, feeling sick (nausea), ringing in the ears (tinnitus) and being sick (vomiting)

To control, manage and medicate the travel sickness.

On particular occasions your doctor may recommend this medicine to nurse a condition that is not mentioned on the above list.
HOW TO USE?
Take this medicine by mouth, normally three-times daily (for balance problems) or various hours before traveling. Take at every 8 hours of your journey (for travel sickness). The tablets should be consumed after meals, and may be chewed, sucked or swallowed whole.
Use this medicine on a regular basis for an added benefit or speedy recovery.
Try to take it at the same time each day or according to your doctors' instructions.
The medicine may take up to several hours for a total benefit and effect.
Certain medical states may need various dosage instructions as suggested by your doctor.
Side effects
The medicine may have some side effects, which cant be ignored. If any of these continue immediately inform your doctor.
Drowsiness

Upset stomach or digestion disorder

Headache

Dry mouth

Increased sweating

Weight gain

Restless bumps on the skin, sometimes with mouth sores

Yellowish skin or eyes (jaundice)

Jerking or slow moves of body, or muscle clumsiness , shivering in body

Restlessness, Rashes

More saliva creation in mouth.

Twitch or out-of-the-way movements of the face, mouth, tongue, jaw or throat, rolling of the eyes

Depression.
Your doctor has recommended this medication because he or she has concluded that the advantage to you is greater than the endangerment of side effects. Many people using this medicine do not have grave side effects.
A serious allergic activity to this drug is improbable, but seek a medical attention immediately if it happens. Symptoms of a grave allergic reaction include: dizziness, rash, itching/swelling (particularly of the tongue/face/throat), troubled breathing. If you attend some other unusual effects not listed above, interact with your doctor.
Dosage
Dosage of the medicine depend on the age, gender, medical state, effect of therapy, and usage of definite interacting medicines.
As the drug may reason drowsiness, particularly at the beginning of treatment. If affected in this manner avoid it before driving or operating machine. For balance problems, it is essential to continue taking this medicine even if you feel fit, unless your doctor says you to stop.
In case of overdoses
Having an cinnarizine may cause the following: coma (unable to wake), sleepiness, extrapyramidal symptoms, vomiting, muscle stiffness, shivering restlessness, creation of excessive saliva than normal, twitching or out-of-the-way movements of the mouth, jaw, throat, tongue, face , rolling of the eyes), hypotonia (laxness of the limbs and muscle weakness, fits seizures.
People who have consumes an extra cinnarizine should look for emergency treatment instantly.
Precautions
This medicine should not be taken if you have some certain medical preconditions. So, consult your doctor or chemist in before using it and discuss your medical history, particularly any of the following: liver or kidney problems, blood disorder named sharp porphyria, Parkisons' disease.
If you are about to go through a surgery, inform your doctor or dentist that you are taking this medicine.
Alcohol should be completely avoided when taking this drug as it can effect in somnolence.
The medicine should be used with cautiousness in the aged people as it may be related with an enhanced likeliness of certain harmful events such as extrapyramidal symptoms (e.g. move disorders), depression.
PREGNANCY
Cinnarizine is harmless to take if you are pregnant are thinking to become one.
It is reasonable to limit the use of medicine during pregnancy whenever manageable. Nevertheless, your doctor may resolve that the benefits surpass the endangerment in individual condition and after a cautious categorization of your particular health situation.
Discuss with your doctor or pharmacist for further doubts or queries.
BREAST FEEDING
Cinnarizine is not risk-free to consume if you are breastfeeding. Talk about it with your doctor or pharmacist for other doubts or queries.
Interaction
Before you start to use this medicine, inform your doctor regarding all the medicines you are taking prescription medicines, particularly if you are taking vitamins or complementary curatives like herbal products, as these can interact with these medicines by making an unsuitable effect.
The medicines mentioned below may interact with cinnarizine:
Medicines for disturbed mental state or depression

Medicines utilized to medicate sleeplessness (anxiety) or (insomnia)
This listed information does not include all possible interactions. So, it is recommended that you consult with your doctor if you are taking this medicine with any other medication.