Azithromycin Oral Suspension IP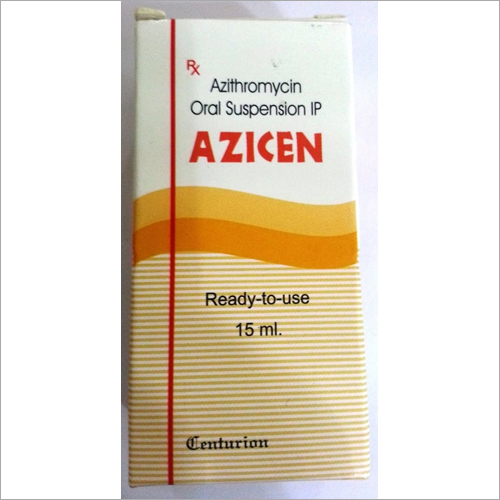 Azithromycin Oral Suspension IP
Product Description
We are a fast-paced organization, committed to meet the rising needs of our valuable clients by offering Azithromycin Oral Suspension IP. This drug is formulated under the strict inspection of expert physicians using only optimum grade compounds. Highly demanded in the market, this drug is used against bacterial infections. We check this Azithromycin Oral Suspension IP on composition and effectiveness parameters before packing in airtight materials.
Features:
Non toxic
Extended shelf life
Balanced pH value
Uses and Benefits
For treatment, control, prevention, & improvement of the following diseases, conditions and symptoms:
Respiratory tract infections
Skin infections
Sinus infection
Throat infection
Chest infections
Urogenital infections
Azithromycin Oral Suspension IP is utilized to medicate certain bacterial infections (including pneumonia, sinusitis). It is a macrolide-type antibacterial, that works by stopping the growth and development of bacteria.
How to use azithromycin?
Read the Patient Information Booklet if it's accessible before you start taking azithromycin Ask your doctor or pharmacist for any doubts and queries.
Shake the suspension in a well manner before you use it. Take this medicine by mouth in an empty stomach (at least 1 hour before a meal or 2 hours after a meal).
For adults, take this medicine as suggested by your doctor.
For children, the dosage is based on your child's weight. Cautiously measure the dose utilizing a particular measuring instrumentation/spoon. Don't use a household spoon as its size may not bring you the correct dose. Discard any leftover suspension.
How it Work

Killing bacteria and preventing them from reproducing.
CompositionPrecautions
Consult your doctor in case you suffer from allergy, pseudomembranous colitis and impaired liver function
Do not take any antacids containing magnesium or aluminium for up to 2 hours
Pregnant
Before taking Azithromycin, communicate with your doctor if you are allergic to it; or to other antibacterials (such as clarithromycin, erythromycin, telithromycin); or if you have some other allergic reactions. This product may incorporate inactive ingredients that can cause sensitized reactions or some other problems. Before using this medicine, inform your doctor your medical history, particularly of: kidney disease, liver disease, a certain muscle sickness (myasthenia gravis).
Azithromycin may origin a precondition, which affects the heart beat (QT prolongation). QT prolongation can seldom reason in a serious (rarely fatal) fast/improper heartbeat and some other symptoms (such as fainting, severe dizziness) that require a medical aid right away. The peril of QT prolongation may be enhanced if you have certain medical states or are using other drugs, which may cause QT continuation. Reduced levels of magnesium or potassium in the blood may also increase the endangerment of QT prolongation. If you have medical states such as diarrhea, severe sweating or vomiting, please talk to doctor about using the azithromycin safely.
During pregnancy, this medicine should be put-upon only when clearly needful. Talk about the benefits and risks with your doctor.
This drug goes through breast milk. Confer with your doctor before breast-feeding.
Contraindications

Breastfeeding
Hypersensitivity
Side effects
There are some side effects of Azithromycin Oral Suspension IP, which are stomach disorder, sickness, vomiting, diarrhea/loose stools, or abdominal pain.
If any of these effects continue or exacerbate, inform your doctor or pharmacist without making a delay. .
These are some unlikely but grave side effects that can occur: Hearing changes (such as weakened hearing, hearing loss), eye disorders (such as blurred vision, drooping eyelids), difficulty in speaking/supping,tasting, swallowing, muscle powerlessness, signs of liver troubles (such as persistent nausea/vomiting, unusual tiredness, severe stomach/abdominal pain, dark urine, yellowing eyes/skin).
Get a medical assistance if any of these uncommon but serious side effects happen:
Fast/irregular heartbeat

Severe dizziness, fainting
Use of this medicine for an extended time or repeated periods may effect in oral thrush or a yeast infection. Contact your doctor immediately, if you notice white spots in your mouth, a change in vaginal emission, or other unusual and risky symptoms.
This is not a comprehensive list of realizable side effects. If you notice some other effects not mentioned above, contact your doctor isnstantly.
Interaction
Some products, which may interact with this medicate include: Live bacterial vaccines.
Although most antibacterials are improbable to impact hormonal birth control such as patch, pills, or ring, a a couple of antibiotics (such as rifabutin, rifampin) can drop-off their effectiveness. This could effect in pregnancy. If you make the use hormonal birth control, inquire your doctor regarding more details.
Some medicates besides azithromycin may affect the heart beat (QT prolongation), including dofetilide, dronedarone, amiodarone, disopyramide, ibutilide, procainamide, quinidine, sotalol, pimozide, among others.
This medicines are formulated by using high quality ingredients that we procure from the authorized vendors of the market. After being processed, these are examined by our quality controllers on various parameters and then delivered to the customers.