Betamethasone Valerate Cream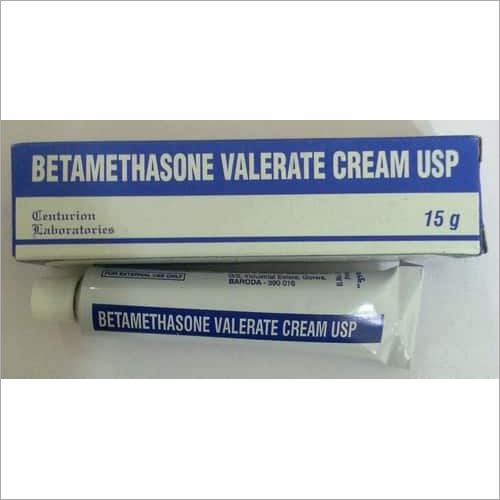 Betamethasone Valerate Cream
Product Description
Came into existence with sole goal to achieve optimum customer satisfaction, our firm is engaged in offering
Betamethasone Valerate Cream
. It is highly recommended by medical practitioner for inflammatory skin conditions owing to its high effectiveness. We are backed by experienced professionals, who help us to formulate the offered cream with qualitative ingredients. Our
Betamethasone Valerate Cream
is highly demanded by our esteemed clients owing to their below mentioned salient features:
Extended shelf life
Accurate chemical formulation
Easy to apply
USES
Betamethasone Valerate Cream is used for cure itchiness, inflammation, redness and swelling related with numerous skin conditions. The cream is a topical corticosteroid and works by depressing the constitution, release, and activity of various cells and chemicals, which cause puffiness, redness, and itchiness.
Use a small amount of medicine to the affected/smitten area. Lightly rub the medicine in until it is equally spread. After its application wash your hands, unless your hands are portions of the treated area. Do not apply the creamte (augmented) cream to the face, armpit, groin unless otherwise advised by your doctor.
Do not cover the treated area with wrappings, bandages or some other dressings unless well-advised by your health professional.
If you miss one time application of the betamethasone dipropionate (augmented) cream, use it as before a long time.
Side effects
There are some unwanted effects, which may be caused by betamethasone content. In the event that any of these side effects do occur, they may require medical attention.
Major Side Effects
You should check with your doctor instantly if any of these side effects happen when you are taking this medicine.
Burning

Itchiness

Tingling at the applied portion..
Less common:
Thinning of the hair

Hair loss
Incidence not known:
Burning, crusting, blistering, dryness, or flaking of the skin

Irritation

Itching, severe redness, soreness, scaling, or swelling of the skin

Inflammation and scaling around the mouth

Thinning of the skin with elementary bruising, especially when utilized on the skin crimps between the fingers.
Minor Side Effects
Some of the side effects, which can occur with betamethasone current may not require a medical attention. Once you become habitual of this medicine during the treatment these side effects may disappear. Your health care professionals may also suggest the ways to reduce these side effects. If any of the following side effects proceed, have a conversation with your health care professional:
Less common:
Acne or pimples

Burning, creeping, itching, apathy, stinging, "pins and needles", or tickling feelings
Incidence not known:
Burning and itchiness on the skin with pinhead-sized red blisters

Itching, burning and pain in haired areas, making of pus at the root of the hairs.

Enhanced hair growth on the arms, forehead, back and legs

Whitening of normal skin color

Whitening of treated areas of dark skin

Reddish purple lines on the arms, face, legs, trunk, or groin

Softening of the skin
Dosage
Usual Adult Dose
Cream, ointment, gel: Apply a thin film to the smitten area once or two times a day.
Foam, curative: Apply two times a day (one time in the morning and one time at night)
Precaution
Avoid its long-term use, particularly near the eyes, on the face, rectal areas and on skin crimps.
Betamethasone valerate cream is only for external use. Avoid its contact with eyes or eyelids. If you get betamethasone valerate cream in your eyes, wash it immediately with cold water.
Do not apply the cream for other skin preconditions at a later time.
If the cream has been prescribed to apply on the diaper area of a baby, avoid the usage of plastic pants or tight-fitting diapers.
The cream should be used with utmost caution with children for their safety.
Pregnancy and Breast-feeding: If you are thinking to use the cream during your pregnancy, don't do so without informing your doctor. Discuss the pros and cons of using betamethasone valerate cream in such cases. It is not better-known if this cream's usage affects the breast milk. So discuss all the possible risks with your doctor regarding this situation.
If you have a skin infection, measles, a thinning of the skin, TB, shingles, chickenpox, a positive TB skin test consult the healthcare professional before using the cream.
Interaction
There are total 63 drugs, which are known to interact with betamethasone content. Some common medicament checked in accumulation with betamethasone topical are mentione below:
Advair Diskus (fluticasone / salmeterol)

Cymbalta (duloxetine)

Fish Oil (omega-3 polyunsaturated fatty acids)

Flonase (fluticasone nasal)
There are total 5 malady interactions with betamethasone topical that include:
Diaper Rash

Diabetes

Hyperadrenocorticism

Ocular toxicities

Infections
| | |
| --- | --- |
| Dosage Form | Cream/ Ointment |
| Medicine type | Allopathic |
| Packaging type | Tube |
| Composition | Betamethasone Valerate |
| Strength | 15 mg |
| USP | 0.05% |