Cetirizine Tablets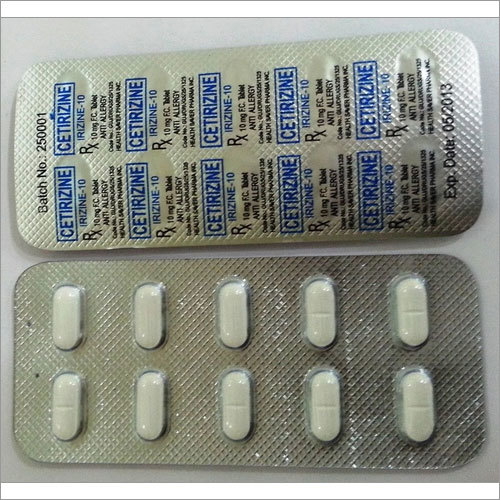 Cetirizine Tablets
Product Description
Having a keen market understanding and vast experience in this field, we have emerged as a trusted organization, best known for offering Cetrizine Tablets. These tablets are processed at our sound processing unit using best quality compounds and ingredients. These tablets are used for relieving the symptoms of fever and allergies. Packed in airtight materials, these tablets are available in different quantity packaging options. We offer these Cetrizine Tablets at pocket friendly prices to clients. Developed by expert professionals, these Cetrizine Tablets are appreciated for their high effectiveness, long shelf life, lowest price range and easy availability in the market. We are offering these tablets in 10 mg quantity. The content of these tablets are suitable both for adults and children. Based in Gujarat, we are counted as an eminent manufacturer and exporter of specially formulated Cetrizine Tablets. The offered medicines are recommended by doctors to treat hay fever, itchiness and swelling of skin, runny nose, watery eyes and sneezing. Reckoned as anti allergic medicines, these tablets are effective in preventing histamine generation of body during allergic condition.
Features:
Have minimal side effects
Non allergic
Longer shelf life
Rapid action and side effect free content are some of the special attributes of these tablets
These are suitable for treating insomnia, fatigue and irritability of children
These are chewable
Affordable price range
Specifications:

Cetrizine Tablets (IRIZINE-10)
10 mg FC Tablets
ANTI ALLERGY
Cetirizine is an medication, which reduces the natural chemical histamine in the body. Histamine can make symptoms of itching, watery eyes, sneezing, and runny nose. It treats cold or allergy indications such as itching, watery eyes, sneezing,, or runny nose. The medicine also treats itching and swelling grounded by hives and several other functions not listed in this medicament guide.
USES
Do not use this medication if you are allergic to cetirizine. Before taking cetirizine, inform your doctor about all of your medical states.
FDA pregnancy category B. This medicine is not anticipated to be harmful to an unborn baby. But we necessarily recommend that use these medicines only after having a consultation with doctor in case you are pregnant or planning to become pregnant. Cetirizine can go through the breast milk and may hurt a nursing baby. Do not use this medicine without informing your doctor in case you are breast-feeding a baby.
Aged adults may require to take a decreased quantity than a normal dose. Follow your doctor's directions..
Take cetirizine just as mentioned on the label, or as advised by your doctor. Do not use it in big amounts or for a long time than it is recommended. You can have it with or without food.
Look for an emergency medical attention if you have taken an overdose of the medicine.
Overdose indications may include restlessness, anxiousness and drowsiness.
Side effects
Cetirizine can effect in side effects, which may damage your thinking ability. Get an emergency medical assistance if you realize these symptoms of an allergic reaction; difficulty in breathing, swelling of lips, face, tongue or throat rashes. Immediately stop using cetirizine and call your doctor straightaway if you feel any of these serious side effects:
Fast, buffeting, or irregular heartbeat

Weakness, shudders (uncontrolled shaking), or sleep troubles (insomnia)

Severe restlessness, hyperactivity;

Mental confusion

Difficulties with visual sense

Urinating less than regular or not at all.
Little serious side effects are:
Dizziness, Sleepiness

Tiredness

Dry Mouth

Painful Throat, Cough

Constipation, Nausea

Headache.
This is not an absolute list of side effects, there are some other that can occur. Tell your doctor about any unusual or irritating side effect. Usually noticed side effects of cetirizine include: drowsiness, weariness and xerostomia. Some other adverse effects of the medicines include:
Adults and children 12 years of age: Fatigue, Dry Mouth, Somnolence.
Children 211 years of age: Pharyngitis, Headache, abdominal pain.
Children 6 months to 2 years of age: Peevishness, malaise, fussiness, insomnia.


Dosage
Usual Adult Dose for Allergic Redness
5 to 10 mg by mouth or chewed once a day.
Common Adult Dose for Urticaria
5 to 10 mg orally or chewed at one time a day.
Usual Pediatric Dose for Allergic Rhinitis
6 months to 2 years: 2.5 mg by mouth, one time a day, 12 months and aged may be enhanced to 2.5 mg by mouth twice a day.

Precaution

In clinical tests, the contingency of somnolence has been detailed or reported. A required carefulness should be needfully exercised when you are driving a car or operating a latent dangerous machine. Coincidental use of alcohol or other CNS sedatives should be completely avoided because additional diminutions in alertness and additional alteration of CNS execution may occur.


Interaction

There are some drugs, which can interact with cetirizine. Confer with your doctor about all your prescription and nonprescription medications, vitamins, herbal products, minerals and drugs suggested by other doctors. Do not outset a new medicine without informing your doctor.

Alcohol Food interaction

Alcohol can enhance the nervous system side effects of cetirizine such as dizziness, somnolence, and difficulty in concentrating. Some people also experience wreckage in thinking and thought. Limit the use of alcohol while being activated with cetirizine. Do take additional dose of cetirizine and deflect activities requiring mental attention such as driving or operating risky machinery. Have a conversation with your doctor or pharmacist if you have any queries or concerns.

Cetirizine may make you drowsy specially with an increased use of alcohol, depressants and tranquilizers.




Cetirizine (Includes Cetirizine) Renal/Liver Disease

Holds to: Dysfunction to urinary organ, Liver Disease

Cetirizine is eliminated mainly by the kidney but also go through metabolism in the liver to some level. Patients with liver and renal disease may be more affected with the harmful effects of cetirizine due to reduced drug clearance. Cetirizine should preferably not be utilized in children less than 6 years of age with renal or internal organ impairment because of the trouble in reliably administering doses.