Haematinic Syrup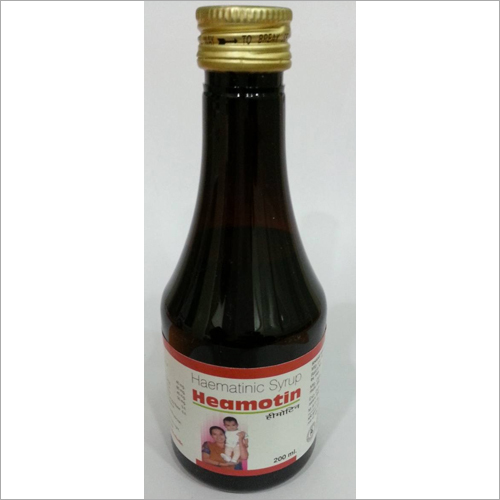 Haematinic Syrup
Price And Quantity
Product Specifications
Product Description
Our team of employees helps us to offer Haematinic Syrup. It is accurately formulated using premier-quality ingredients. We have established world-class quality testing facility, in which offered syrup is tested on different quality parameters to remove defects. With the help of our logistics personnel, we timely deliver this syrup at the premises of our clients. Our esteemed clients appreciate the offered Haematinic Syrup for its below mentioned salient features:
Longer shelf life
Easy to consume
Can be kept safe for longer time
Accurate chemical composition
Haematinic Syrup is a medicine that treats with the anemia, deficiency of iron and Vitamin B12 deficiency. The syrup treats with all kinds of anemia as of pernicious anemia, and the anemia caused by deficiency of folic acid. It works well on the poor diet and defective absorption of food due to various conditions. The Haematinic Syrup includes Folic Acid, Ferric Ammonium Citrate and Vitamin B12 as its active ingredients.
It works by making blood cells and blood platelets in the body and treats with vitamin B12 deficiency; making and developing the red blood cells in the body.
USES
Haematinic Syrup is in use for the treatment, prevention, control of the following conditions, diseases and symptoms:
Iron deficiency

Anemia

Anemia due to Folic acid deficiency

Pernicious Anemia

Vitamin B12 deficiency

Poor absorption of food

Poor diet

Enhanced requirement of folate in the body during pregnancy.

Folate deficiency.

Side Effect
Some of the possible side effects, which may fall out from all comprising ingredients of Haematinic Syrup are listed below. The list is not a comprehensive one. These are the likely side effects without the certainty of a definite occurrence. Some of the side effects may be rare but serious. Consult your doctor if you observe any of the following side effects, especially if they do not go away.
Gastronintential Problems

Black Stools

Stomach pain

Swelling

Fast weight gain

Diarrhea
In case any other side effects occur except these ones, please contact the doctor.


Precaution & How to Use
Before you use this drug, tell your doctor about your underway list of medications, over the counter products (ex. herbal supplements, vitamins etc.), pre-existing diseases, allergies and present-day health conditions (ex. upcoming surgery, pregnancy etc.). Few health conditions may make you more allergic to the side effects of the drug. Take as suggested by your doctor or follow the direction written on the product inset. Dosage of the medicine depend on your condition. Immediately inform your doctor if your condition continues or worsens. Crucial guidance points are listed below.
Immediately stop the dosage of this drug if you are allergic to it.

Deficiency of Folic acid

Iron deficiency

Kidney disease

Liver disease

Limit alcohol intake
Haematinic Syrup Working
Haematinic Syrup amends the patient's state by performing the following tasks:
Producing platelets and blood cells in the body.

Treats with the deficiency of vitamin B12.

Making and and increasing the quantity of the red blood cells through a regular formation.
Haematinic Syrup Composition and Active Ingredients
Haematinic Syrup is formulated with the following active ingredients (salts)
Ferric Ammonium Citrate (160 Mg)

Folic Acid (Vitamin B9) (7.5 Mg)

Vitamin B12 (5 Mg)
We make you aware of the fact the medicine is available in different strengths for each active ingredient informed above.
Specification
| | |
| --- | --- |
| Usage | Personal |
| Dose/Strength | 200 ml |
| Packaging Type | Bottle |
| Form | Syrup |
| Medicine Grade | Allopathic |
| Treatment | Anemia |