Metoprolol Tablets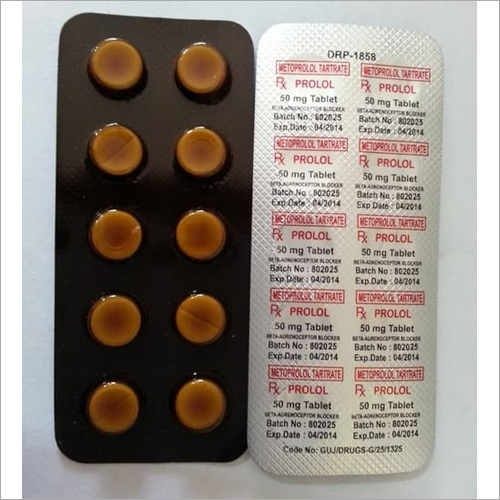 Metoprolol Tablets
Product Description
Ours is a prominent firm that is engaged in manufacturing, supplying and exporting Metoprolol Tablets. This tablet is beta-blocker that affects the flow of blood by treating arteries and veins. Offered tablet is used for treating chest pain, which is known as angina in medical terms. It may also be used for treating hypertension that happens due to the high blood pressure. Moreover, it is helpful in preventing heart attack. Valued patrons can avail Metoprolol Tablets from us at market leading prices.
Metoprolol Tablet is a beta-blocker that affects the heart and blood circulation through arteries and veins. It is utilized to treat angina (chest pain) and high blood pressure as well as preventing heart attack. The tablet may also be utilized for other functions not mentioned in this medication guide. It is recommended not to use metoprolol if you have a grave heart disorder ( sick sinus syndrome, heart block, slow heart rate), severe heart failure, severe circulation troubles, or a history of drawn-out heart beats that cause fainting.
The tablet should be taken with a meal or just after a meal.
Features:
Easy usage
Highly effective
Reliable
Longer shelf life
Uses and Benefits
For treatment, control, prevention, & improvement of the following diseases, conditions and symptoms:
Hypertension
Cardiac arrhythmias
Supraventricular arrhythmia
Angina pectoris
Hyperthyroidism
Heart failure
Myocardial infarction
Migraine attacks
How to Work
Relaxing blood vessels thus decreasing blood pressure and by reducing infarct size.
CompositionContraindications
Cardiogenic shock
Heart block
Hypersensitivity
Overt cardiac failure
Sinus bradycardia
Precautions
Foods with high potassium content
Hyper parathyroidism
Patients with impaired hepatic function
Metoprolol is not recommended for use for anyone younger than 18 years old.
You should not take this medicine if you are allergic to metoprolol, or other beta-blockers (carvedilol, labetalol, nadolol, propranolol, sotalol, atenolol, nebivolol, and others) or if you have:
A grave heart disorder such as sick sinus syndrome, heart block or slow heart rates.

Intense circulation problems

Severe heart failures

History of slow heart beats, which have caused you to faint.
To be confident that metoprolol is safe for you, consult the doctor if you have:
Asthma, sleep apnea, chronic obstructive pulmonary disease (COPD) or other breathing disorder.

Diabetes (taking metoprolol may make it difficult for you to tell when you have low-level blood sugar)

Liver disease

Congestive heart failure

Difficulties with circulation

A thyroid disorder

Pheochromocytoma (tumor of the endocrine gland).
It is not better known whether metoprolol will hurt an unborn baby. So if you are pregnant always consult your doctor, or if yo are breastfeeding a baby.
Side effects
Some undesirable effects may also be reasoned by metoprolol; some of them are cited below:
Major Side Effects
You should contact with your doctor immediately if any of these side effects come about when you are taking metoprolol:
More common:
Blurred sight

Chest pain or discomfort

Confusion

Faintness, dizziness, lightheartedness

Shortness of breath

Slow or irregular heartbeat

Sweating

Out-of-the-way tiredness or powerlessness
Irregular heartbeat

Sweating

Out-of-the-way tiredness or weakness
Less common:
Bloating or puffiness of the arms, hands, face, lower legs, or feet

Cough

Reduced urine output

Difficult or strained breathing

Difficulty with speaking

Expanded neck veins
Dosage
Usual Adult Dosage for Hypertension
Initial dose: 100 mg by mouth per day in single or separated doses

Maintenance dosage: 100 to 450 mg orally per day
Regular Adult Dose for Angina Pectoris
Initial dose:
50 mg orally twice a day
100 mg orally once a day
Common Adult Dose for Myocardial Infarction
Early Treatment:
Initial dosage: 5 mg IV every 2 minutes as stomached for 3 doses
Patients forbearing of full IV dose (15 mg): 50 mg by mouth every 6 hours starting 15 minutes after the endmost IV dose and maintained for 48 hours
Patients sensitive of full IV dose (15 mg): 25 or 50 mg by mouth, every 6 hours based upon the degree of impatience starting 15 minutes after the last IV dose or as soon as their clinical state permits.
Common Adult Dose for Congestive Heart Failure
25 mg orally one time a day (12.5 mg orally once a day in patients with more intense heart failure); double dosage in every 2 weeks to fullest tolerated dose or up to 200 mg by mouth, once a day.
Regular Pediatric Dose for Hypertension

Initial dosage: 1 mg/kg orally once a day (not to transcend 50 mg orally at one time in a day)
Interaction
Consult your doctor about all medicines you take, and those you start or stop taking during your aid with metoprolol, particularly:
Prazosin

Trbinafine

An antidepressant - bupropion, fluoxetine, clomipramine, desipramine, duloxetine, fluvoxamine, sertraline;

An ergot medicine - ergotamine, dihydroergotamine, ergonovine, methylergonovine;

Heart or blood pressure medicines - amlodipine, clonidine, hydralazine, methyldopa, nifedipine, digoxin, verapamil, dipyridamole, quinidine, reserpine diltiazem and some others.

A MAO substance - linezolid, phenelzine, rasagiline, isocarboxazid, selegiline, tranylcypromine

Medicine to medicate mental illness - fluphenazine haloperidol, chlorpromazine, thioridazine.
This list is not a comprehensive one. Some other medicates may interact with metoprolol, including the prescription an non prescription ones, herbal and vitamin products. So consult the doctor if you are taking any another medicine along with Metoprolol Tablets.