Ondansetron Oral Solution IP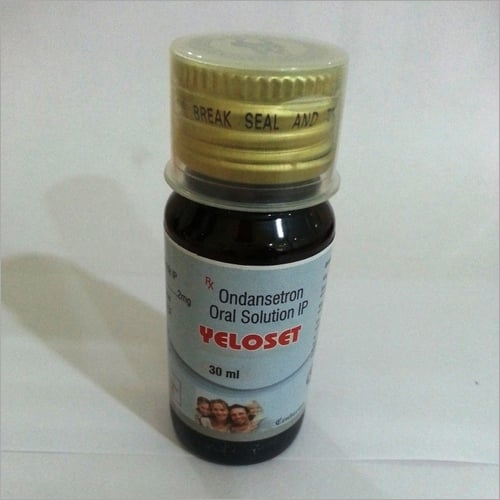 Ondansetron Oral Solution IP
Product Description
We have gained immense reputation in the market as a trusted organization engaged in offering Ondansetron Oral Solution IP. This medicine is ideal to prevent nausea and vomiting caused after surgery or radiation therapy. We formulate this medicine under the strict inspection of expert physicians using best quality compounds. To ensure safe and easy transportation, we pack this Ondansetron Oral Solution IP in airtight bottles.
Features:
Safe to consume
Extended shelf life
Precise pH level
Uses and Benefits

Prevention of vomiting and nausea linked with highly emetogenic cancer chemotherapy, such as cisplatin 50 mg/m2.
Prevention of vomiting and nausea associated with first and repeat courses of reasonably emetogenic cancer chemotherapy.
Prevention of vomiting and nausea connected with radiotherapy either total body irradiation, daily fractions to the abdomen or single high-dose fraction to the abdomen.
Prevention of vomiting and/or postoperative nausea.

Composition-

Ondansetron HCl dihydrate is a off-white to white powder having solubility features in water as well as normal saline.
Each 5 mL of Ondansetron Oral Solution, USP includes 5 mg of ondansetron HCl dihydrate equal to 4 mg of ondansetron. Ondansetron Oral Solution, USP includes the inactive ingredients like citric acid anhydrous, saccharin sodium, glycerin, purified water, sodium citrate, sodium benzoate, and strawberry flavor.
Contraindications-

The concomitant utilization of apomorphine along with ondansetron is contraindicated according to the reports of deep hypotension and consciousness loss when apomorphine was taken with ondansetron.
Ondansetron Oral Solution, USP is contraindicated for those patients, who have hypersensitivity to the drugs.

Precautions-
The drug should not be used as an alternative of nasogastric suction. The use in patients following abdominal surgery or having chemotherapy-induced nausea as well as vomiting can mask a progressive gastric distension and/or ileus.
Patients having serotonin syndrome with the use of ondansetron as well as another serotonergic agent like medications to cure migraines and depression. Advise patients to ask for direct medical attention if the symptoms like autonomic instability, changes in mental status, neuromuscular symptoms, etc. occur.