Rabeprazole and Domperidone Tablet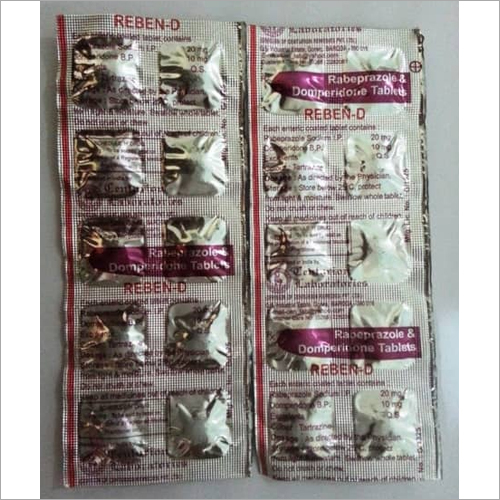 Rabeprazole and Domperidone Tablet
Product Description
We have an extensive experience in the market that empowers us in emerging as a trusted organization that is engaged in offering Rabeprazole and Domperidone Tablet. This tablet is used in the treatment of patients suffering from gastro oesophageal reflux disease. To comply with set safety norms, we use optimum grade compounds to process this tablet. For safe transportation, we pack this Rabeprazole and Domperidone Tablet in moisture proof materials.
Features:
Non toxic
Free from adulteration
Highly effective
Uses and Benefits
For treatment, control, prevention, & improvement of the following diseases, conditions and symptoms:
Vomiting
Nausea
Fullness of stomach
Belching and heavy bloating
Gas
Heartburn
Gastric acidity
Gastro-intestinal reflux
Stomach ulcers
Intestinal ulcers
How it Work
Normalising the digestion process.
Blocking the activity of the proton pumps in the stomach wall.
Composition
Domperidone(10 mg)
Rabeprazole(20 mg)
Precautions
Abnormal salt levels in the blood
Above 60 years of age
Allergic reactions
Black, tarry stools or blood in the stools
Blockage or tear in the intestines
Children below two year
Contraindications
Breastfeeding
Gastrointestinal haemorrhage
Hypersensitivity
Obstruction and perforation
Patients with prolactin releasing pituitary hormone
Postoperative nausea and vomiting