Silver Sulfadiazine Cream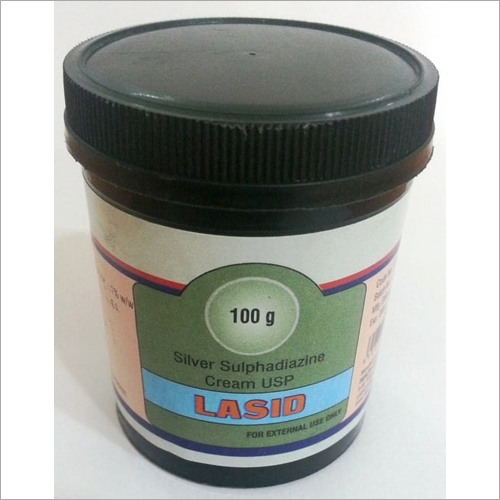 Silver Sulfadiazine Cream
Product Description
We are supported by a team of highly experienced employees, who enable us to provide Silver Sulfadiazine Cream. Our team of highly experienced professionals use premier-grade ingredients for formulating the preparing the offered cream. We offer this cream to our clients in highly qualitative packaging so that it can be safely delivered at the premises of our clients with any risk during the transition. Offered Silver Sulfadiazine Cream is highly appreciated by our patrons owing to its below listed salient features:
Easy to apply

No irritation to the skin

Longer shelf life

Accurate composition
Uses and Benefits-
Silver Sulfadiazine Cream is an antimicrobial drug indicated for the prevention as well as treatment of wound sepsis in varied patients with third as well as second degree burns.
Composition-
Each gram of this Silver Sulfadiazine Cream includes 10mg of micronized silver sulfadiazine. It contains 1% w/w silver sulfadiazine. Moreover, the vehicle in which the active element is detached consists of stearyl alcohol, white petrolatum, water, propylene glycol, isopropyl myristate, polyoxyl 40 stearate, and sorbitan monooleate along with 0.3% methylparaben as a preservative.
Contraindications-
Silver Sulfadiazine Cream, USP 1% is contraindicated in those patients who are oversensitive to silver sulfadiazine or any other ingredients in the preparation.

As sulfonamide therapy is recognized to augment the possibility of kernicterus, this Silver Sulfadiazine Cream, USP 1% should not be atomized on pregnant women at or approaching term, on premature infants, or on infants during the initial 2 months of life.
Precautions-
If renal and hepatic functions spoiled and removal of the drug lowers accumulation may occur. Sopping the use of Silver Sulfadiazine Cream, USP 1% must be weighed against the healing benefits being achieved.

In considering the utilization of topical proteolytic enzymes in combination with Silver Sulfadiazine Cream, USP 1% the option should be noted that the silver may inactivate these enzymes.